Music
"Singing is Praying Twice."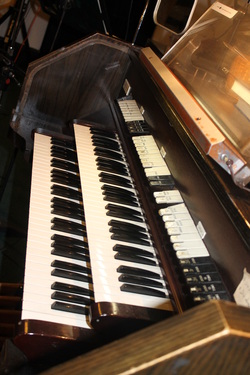 Music enhances the Liturgy Mass Celebration of the Roman Catholic Faith. The Catholics are basically traditional and follow the Mass Liturgy very strictly. All songs are based on the Liturgical Season. The Organist, Pianist, Singers, Cantors sing the Responsorial Psalms, Acclamation, Entrances, Offertory, Communion, and Final Songs based upon the Liturgy of the Mass.

St. Mary Help of Christians Church have multiples liturgies on most Sundays of the year. Then, in many cases, the entire parish community comes together for one liturgy on holy days such as as Palm Sunday, Holy Thursday, Good Friday, and Easter Vigil. These Trilingual Celebrations are wonderful opportunity for the various cultural groups of the parish to worship as one.

Our Parish is equipped with three Liturgical Languages: English, Italian, and the Spanish. These groups sing into their own traditional style. Each has an expressive way to enhance and beautify the Liturgical Mass Celebrations.

In our worship today, we strive for both a singing assembly and for appropriate choral and instrumental music. In addition, we are happy to welcome other choir, performers, and listeners to help assist us in our Liturgical Mass.
---
Our Music is always supported by:


| | | |
| --- | --- | --- |
| The Spanish Music Ministry | The English Music Ministry | The Italian Music Ministry |
---
The Marian Little Singers

The Marian Little Singers are scheduled to sing every 10:30 English Mass Sunday. These Beautiful Children of God are sharing their Gifts and Talents thanking the Lord and Praising God through Music and Songs.These Little Singers lead the congregation with their Angelic voice during the Sunday Mass. They are trained to sing songs appropriate and in consonance with the Liturgical Season. Ms. Angela La Cuesta spearheads the training of the group. If you are interested to share your God's Gift and Talent, please contact the Rectory - Cecilia or Angela La Cuesta.


(SUGGESTED SONGS FOR THE EASTER SEASON)


---

Entrance Song:

Sing to the Mountains p. 435
Christ the Lord is Risen Today p. 437
Sing a New Song p.537
Sing Our God Together p[523





Gloria . . .

First Reading: (Be

Responsorial Psalm:

Second Reading:

Gospel Acclamation: Praise to you, Lord Jesus Christ, King of endless glory!

Verse:

Gospel Reading:

Homily: (Rev. Brando Ibarra)

Offertory Song:
Sing with all the Saints in Glory
Alleluia! Sing to Jesus p.853






Holy, Holy, Holy Lord God of Hosts. Heaven and Earth are full, are full of your glory. Hosanna! Hosanna! Hosanna in the highest. Blessed is he who comes, who comes in the name of the Lord. Hosanna! Hosanna! Hosanna in the highest.


When we eat this Bread and drink this Cup, We proclaim your death O Lord. Until you come again.

Amen, Amen, Amen . . .

Our Father. . .

Lamb of God

1. Jesus, Lamb of God, you take away the sins of the world, have mercy on us. 2. Jesus, Bread of Life, you take away the sins of the world, have mercy on us. 3. Jesus, Cup of Hope, you take away the sins of the world, grant us peace.



Communion:

Easter Alleluia 424
Resucito p.432
A Hymn of Glory Let Us Sing p.453
Be Joyful, Mary p426
I Danced in the Morning p708
​
Final:
Alleluia, Alleluia, Give Thanks 443