.
The New Pastor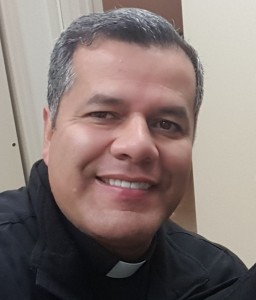 Saint Mary Help of Christians Church is blessed with energetic, vibrant, young and kindhearted Parish Priest who will be installed on Sunday, June 19, 2016 at 12:45 pm Eastern time.

Rev. Fr. Brando Ibarra, Father, Fr. Brando, sometimes Fr. B as they call him graced our congregation with a sense of mission, a higher call, a need to make our church grow in genuine love and service to the Lord. He is compassionate, a good shepherd, and a guiding light to us all. He has a habit of seeing where others going wrong and trying to put them right. A very good example was when before receiving the Holy Communion, he was explaining that receiving Holy Communion, one must have reverence and respect by clasping both hands and responding to the word "Amen" when intoned "The Body of Christ" and not the word "Thank you".

Fr. Brando is naturally attracted to leading roles in religion and spirituality. Roles that inspire, rouse and ignite people. He reminds us the goodness of praying and going to the church. He instills us and keep ranting to pray the Rosary, attending Padre Pio Novenas, and spending quality time by praying before the Blessed Sacrament. He encourages the congregation to praise the Lord through singing. Fr. Brando stir, inspire and arouse change by openly proclaiming his vision in a better way. A classic example was when Saint Mary Congregation had Stations of the Cross in the streets of Paterson. It is classic and very inspiring gesture to all of us Christians. This changed has generated a very high regards that made each and every one of us inspired and affixed ourselves into another level of Spirituality in glorifying the Lord.

During the Stations of the Cross in the streets of Paterson, a couple went out of their car knelt and prayed as the procession passed by. They did not know what was going on. It was their first time to see and witnessed Station of the Cross in the Streets of Paterson. They were just one of the bystanders witnessing the procession when they felt different. Something more beautiful, and wonderful transpired in them that during that Easter Sunday, they attended the Easter Mass at St. Mary Help of Christians Church.

​Fr. Brando is an inspiration to all of us. He is our Pastor, Preacher, and Educator with a sense of God-given duty to do good and fight evil. During the night of the Stations of the Cross, we witnessed him leading us singing and praying to the Stations of the Cross throughout the procession. His endurance was so invigorating to all of us. How wonderful to have Fr. Brando in our church leading us all to the path of righteousness. Yes, Fr. Brando, who is devout, pious, sincere, truthful, reverent, humble, faithful, kindhearted, jolly, and patient will be our official Pastor when he will be installed on Sunday of June 19, 2016. Finally, Fr. Brando is not only loved by his Parishioners, he is actually a gift to us all from God.
---
For Bloggers

Please be informed that the site is temporarily closed for messages and comments for further evaluation. I will post the availability of the site as soon as it is ready to open.

Thank you.

Truly,

Saturnino Lacuesta
InCharge-SMHC Website
---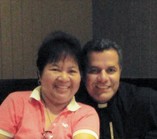 "Good morning, beautiful people of St Anthony!" This is how Fr Brando use to greet his congregation here at his former parish. And yes, it always made us feel beautiful not only on the outside but mostly on the inside. For me, it also made me stop to think about how I see other people. No matter how bad we feel about others, we have to look beyond and realize that there is always something good in everyone.
Fr Brando, St Mary's is very lucky to have you. Good luck and we miss you!

Your Hermana,
​Nila

" My heart is restless until it rests in you, Lord. "
---
Fr. Brando,

Thank you so much for the Love that you shared with us at St. Anthony Church. We will be missing your goodness, kindness, understanding and your love and passion for the people and the church. But most of all for the glory of God.

Thank you and God bless you.

With our Love,

ALAY AWIT CHORALE
---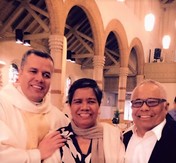 Reverend Father Brando Ibarra is one of the most lovable and charismatic priests we have ever known. He has this special quality of endearing people to listen to him. His homilies are relevant, personal and full of lessons you can apply in your life. What is more remarkable is his openness to share his loving relationship with his mother who nurtured his love of Jesus and his vocation at a very young age.

Father Brando was not only our pastor at St. Anthony of Padua Parish in Passaic, New Jersey, but also our friend who was always there to share moments with us, Filipinos during our FACSA meetings, or Saints Lorenzo Ruiz and Pedro Calungsod Feasts or Santo NINO Feast or Santacruzan. He would always say that he enjoyed learning the Filipino culture and traditions. He appreciated our Easter "Salubong," our "Simbang Gabi," and our strong devotion to Our Lady of Perpetual Help. In fact, he made it possible that we have that devotion to our Blessed Lady in our beautiful chapel every Wednesday. He also loved to eat Filipino food like arroz caldo, pancit or lumpiang shanghai. He was always there to cook and serve his parishioners with hamburger or hot dog during parish picnics. He was there during our line dancing activities (He dances, too!). He was always there during the parish festival; willing to be the "target" of the water tank game for the enjoyment of the fiesta visitors! And when you needed advice or help, Father Brando was there; willing to listen, making you feel special and loved!

Thank you so much, Father Brando for all the wonderful years you have unselfishly shared with us in St. Anthony's Parish. God bless you always! We love you and we miss you!
​
Love and blessings,

Lou and Nem Tubil
---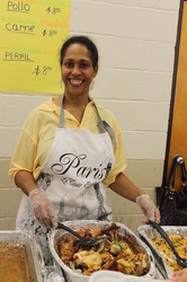 Father Brando is a dynamic, and inspiring Pastor. Many things have changed and continue to change, but that is a good thing. We, the parishioners of St Mary Help of Christians learn many things from each of our Pastors, not least of which is their different personalities. We look forward to growing in our faith under Father Brando's leadership.


El Padre Brando es una persona dynamica e inspiradora. Muchas cosas han cambiado y continuan cambiando, pero eso es algo bueno. Nosotros los filigree the Santa Maria Auxiliadora, aprendemos muchas cosas de nuestros respectivos Parrocos, incluyendo sus diferentes personalidades. Miramos hacia el futuro creciendo en nuestra fe bajo el liderazgo del Padre Brando. Bertha


---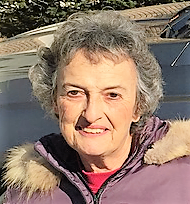 In the Fall of 2015 God blessed our parish with a new pastor, Father Brando Ibarra, who has been a breath of fresh air for all of us. He has swept the church buildings clean, discarding old and outdated items and replacing them with new, beautiful furnishings. More importantly, his words and attitude have breathed a Spiritual Revival among our parishioners. His love of God and of Our Lady inspire his sermons, which lead us to a deeper understanding of what it means to be a child of God. We find ourselves looking forward to what we will learn on the following Sunday. His reverence during the Mass is truly inspiring. I especially like the way he has us say "My Lord and my God" during the Consecration.

As a Rosarian, I also appreciate the way he begins Mass with the Hail Mary, as well as the Marian devotions he has added to our schedule. Father's presence has attracted many new people to our church, and it's been years since the pews were so full on Sunday. The church is always beautifully decorated, and was especially so during the Clhristmas and Easter seasons, making us feel the presence of God in a deeper way.

Father Brando also takes the time to make each person feel he is important and loved by God, and always has a word of greeting for those he meets. He has made the effort to know his new parishioners and is with them in good times and bad. His outgoing personality makes us feel he is a friend to all. We are looking forward to having Father Brando as our pastor for many years.

FILOMENA MOHR
President
Rosary Altar Society
Saint Mary Help of Christians Church
http://stmarypaterson.org/rosary-altar-society.html
​


---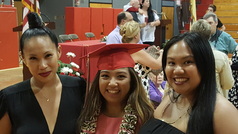 Father Brando is a wonderful priest and always welcomes parishioners with cheerful and kind greetings. It is always a pleasure to come to mass and see him acknowledge everyone as he walks around. He greatly cares about the church and makes improvements daily by the cleanliness and appearance inside and outside the parish. He makes sure that people have a peaceful and beautiful place to pray. During masses, he is very enthusiastic and his voice is very clear. He encourages parishioners to participate in the choir songs and read out loud prayers. Our parish community is very blessed to have such a caring priest like Father Brando.

​Leslie, Angie, Christina
---

Fr. Brando is always a Good Shepherd to all the Parishes he stayed. He love and inspire every parishioner. He looks after the spiritual welfare and growth of his parishioners.

The Lord said " Go to all Nations and preach the Good News in the name of the Father and of the Son and of the Holy Spirit and I shall always be with you till the end of time."

My Parish is St. Clare Church. But I always heard about the goodness of Fr. Brando Ibarra as a Pastor and Educator. He inspire and ignite the Parishioners. He has really attracted Parishioners because of his Charisma to lead the Parisioners to innovations and changes. I was told that he inspires the Parishioners through singing when worshiping the Lord. This is true because "Singing is Twice Stronger" when praying to God.

When Fr. Brando was transferred to Saint Mary's Help of Christians Church, the Parishioners practiced what was imbibed to them by this Pastor. All his goodness as a Pastor is cherished by the Parishioners and happy that his goodness will be shared in another Parish (Saint Mary Help of Christians Church). Although he is gone from St. Anthony Parish, I am sure that the legacy imbibed into this Parish will be there forever.

​DR. OSWALDO A. CASUPANG
M.D., MTh., D.D., SFO