Music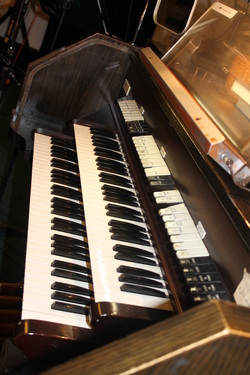 Music enhances the Liturgy Mass Celebration of the Roman Catholic Faith. The Catholics are basically traditional and follow the Mass Liturgy very strictly. All songs are based on the Liturgical Season. The Organist, Pianist, Singers, Cantors sing the Responsorial Psalms, Acclamation, Entrances, Offertory, Communion, and Final Songs based upon the Liturgy of the Mass.

St. Mary Help of Christians Church have multiples liturgies on most Sundays of the year. Then, in many cases, the entire parish community comes together for one liturgy on holy days such as as Palm Sunday, Holy Thursday, Good Friday, and Easter Vigil. These trilingual celebrations are a wonderful opportunity for the various cultural groups of the parish to worship as one.

Our Parish is equipped with three Liturgical Languages: English, Italian, and the Spanish. These groups sing in their own traditional style. Each has an expressive way to enhance and beautify the Liturgical Mass Celebrations.

In our worship today, we strive for both a singing assembly and for appropriate choral and instrumental music. In addition, we are happy to welcome other choir, performers, and listeners to help assist us in our Liturgical Mass.

Our Music is always supported by:

The English Music Ministry

The Italian Music Ministry

The Spanish Music Ministry

Angela and Nino are in-charge of the English Music Ministry. This is a Father and Daughter team. They sing in the English Regular Masses as well as in Trilingual Celebrations.

Angela is a 16-year old daughter of Nino who top the MTNA award for Best Composer of the year (2009). She was musically crafted at an early age and was performing in different states by the Yamaha Music for Young Artist. She has won several awards such as Young Composers Awards, Representative of the MTNA (Music Teachers National Association). She was awarded The Most Outstanding Achievement Award in Musical Composition and Performance. At the age of 14, she was awarded the NJPAC (New Jersey Performing Arts Center) Scholarship through the Corolo Foundation and continues to be Scholar of Piano Classical Music up to the present time. Angelica is a Sophomore in Lakeland High School in Ringwood. She has been raised pure Catholic by her father and mother and officially started singing in church at the the age of six here at Saint Mary Help of Christians Church.

Nino is the father of Angela. Nino has been playing at St. Mary Help of Christians Church since 1994. Before he migrated to America, Nino has been the organist of Bayombong Cathedral Choir, The Saint Mary's University Choir, The Marian Little Singers, The Saint Dominic Male Choir. At an early age, he has won accolades in Piano and Guitar. He has been strictly taught by the Franciscan Sisters under the tutelage of Sr. Helena de Castro, CFIC. Although the entire family moved to Ringwood, Nino has been very loyal to St. Mary Help of Christians Church and never thought of changing his Parish.





---