Holy Week

---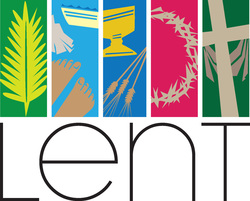 Today we celebrate Passion Sunday or what is most commonly called Palm Sunday. We begin Holy Week with Palm Sunday and the day on which we read the first account of the Passion of Jesus. This begins our first mediation on the sufferings of Jesus for Holy week. These days of Holy Week are called our own High holy days. They focus on the great acts of our salvation accomplished by Jesus. It is God's great intervention on our behalf. Each of the days of Holy Week gives us different perspective. Let us skip right to the most holy of these High Holy days.
We begin with Holy Thursday. We will have the celebration of the Chrism Mass. This Mass is celebrated by the Bishop and he blesses the Holy oils that are used at Baptisms, Confirmations, Holy Orders and Anointing of the Sick. The oils are then distributed to all the parishes.
Holy Thursday is the day we consider Jesus instituted the Eucharist and the priesthood. During the Mass we also do what Jesus did. He washed the feet of his apostles that they might experience firsthand his love and kindness. We end the service with a procession with the Holy Eucharist and enthrone it in a separate altar from where it usually resides. It is available for adoration until late in the night.
On Good Friday, we have the service of the Word. We do not have a Mass. We concentrate on the suffering and passion of Christ.
We read the passion from the Gospel and then we have the unveiling and the reverence of the cross. We conclude with a simple reception of Holy Communion from the hosts that were consecrated the night before on Holy Thursday.
Finally on Holy Saturday we end with the Holy week by first of all lighting what we call the new fire. We light the paschal candle and begin our service of the word which centers on the various ways God has intervened on behalf of his people and led them to new beginnings. Finally we sing the great alleluia the celebration of Easter begins with the gospel of the resurrection. It is at this mass that new members of the community are initiated into the church community by administering the Sacraments of Initiation. These are inspiring and beautiful ceremonies and all should really try to attend them.
Click this link for your Holy Week Schedule
---